There is no question that juices and smoothies are one of the most common ways for people to stay on track with their healthy lifestyle. Whether someone is at the beginning of their health journey or they are already a wellness expert, chances are they incorporate either a smoothie or juice into their daily lives.
What I love about this ongoing health trend is the simplicity and accessibility. It really is so easy to make your own smoothie and additionally there seems to be more and more juice bars popping up around town. Yet with this easy access, we still need to be careful with both what we put in our own smoothie and where we get them from. Just because it's made with fruits and vegetables does not necessarily mean it's healthy.
When it comes to juices and smoothies, I am much more of a smoothie girl. I love the thickness, adding lots of superfoods and proteins and making it a meal. I'm also a big supporter of making your own at home. However, let's be real, it's not always that easy to do.
Up until the beginning of this year, I was working in a corporate real estate office with a very consistent routine. I would work out at 6am before heading to work and had a significant commute. Timing was not on my side so some things had to give. For me, that was having breakfast at home. Luckily for me, my office had a Jugo Juice in the building and it quickly became my every day breakfast.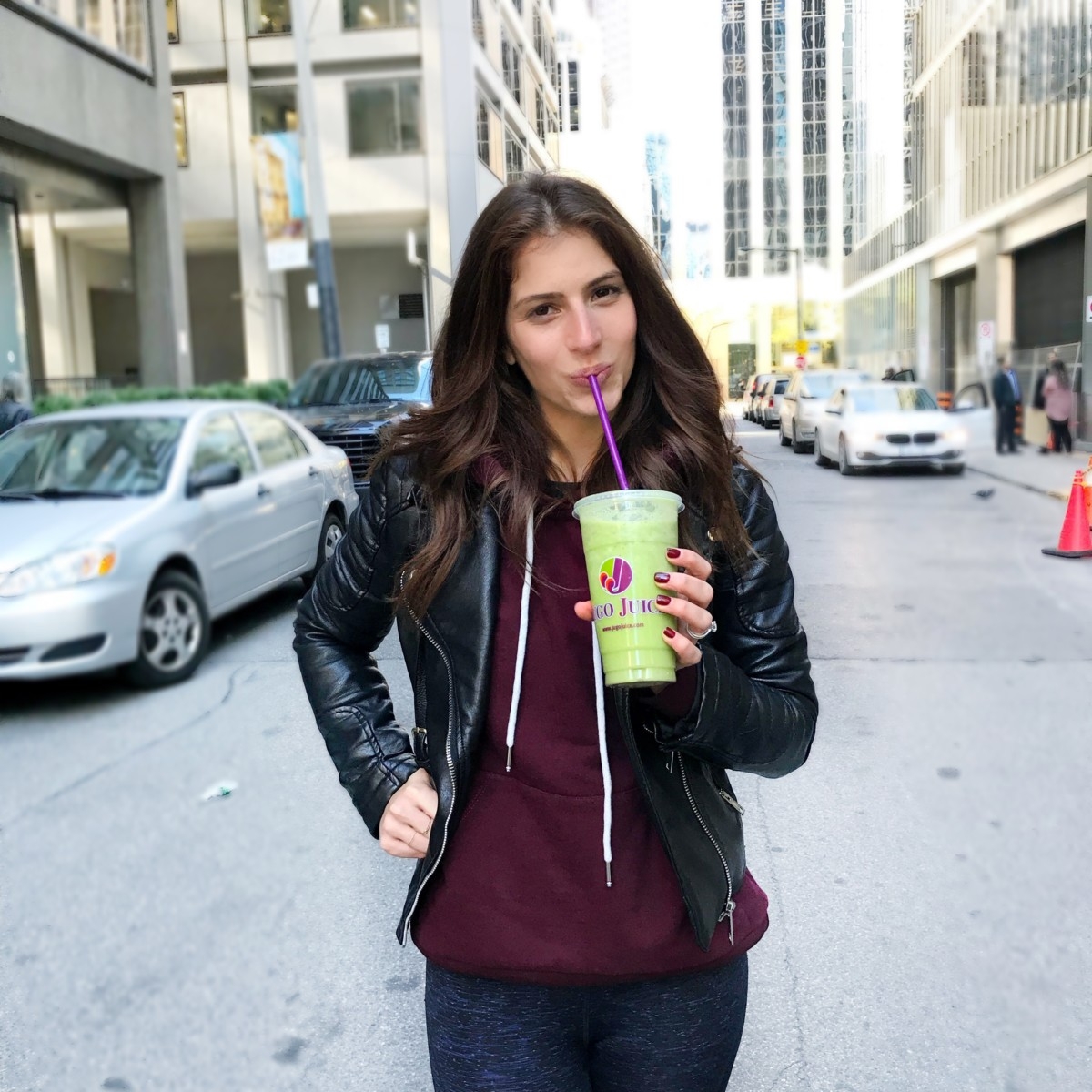 As I mentioned, not all juice bars are created equal. So what do I look for? Fresh ingredients, healthy protein powders, superfood supplements and endless options. Jugo Juice met every one of those criteria. Although they have so many menu items, I rarely strayed from my #PB Protein shake which was made with banana, protein powder, peanut butter and unsweetened almond milk. I am a creature of habit after all.
So when Jugo Juice challenged me a few weeks ago to have one of their smoothies or juices a day, every day for 10 days, I jumped on the chance. I mean, smoothies were already a part of my daily routine, I'm already obsessed with Jugo Juice plus I love a good challenge.
It should come as no surprise that on Day 1 I went for my beloved #PB Protein shake. Wow, I forgot how good it was and got brain freeze from drinking it too fast. I knew, however, that I should branch out over the next 9 days and take advantage of Jugo Juice's wide array of options.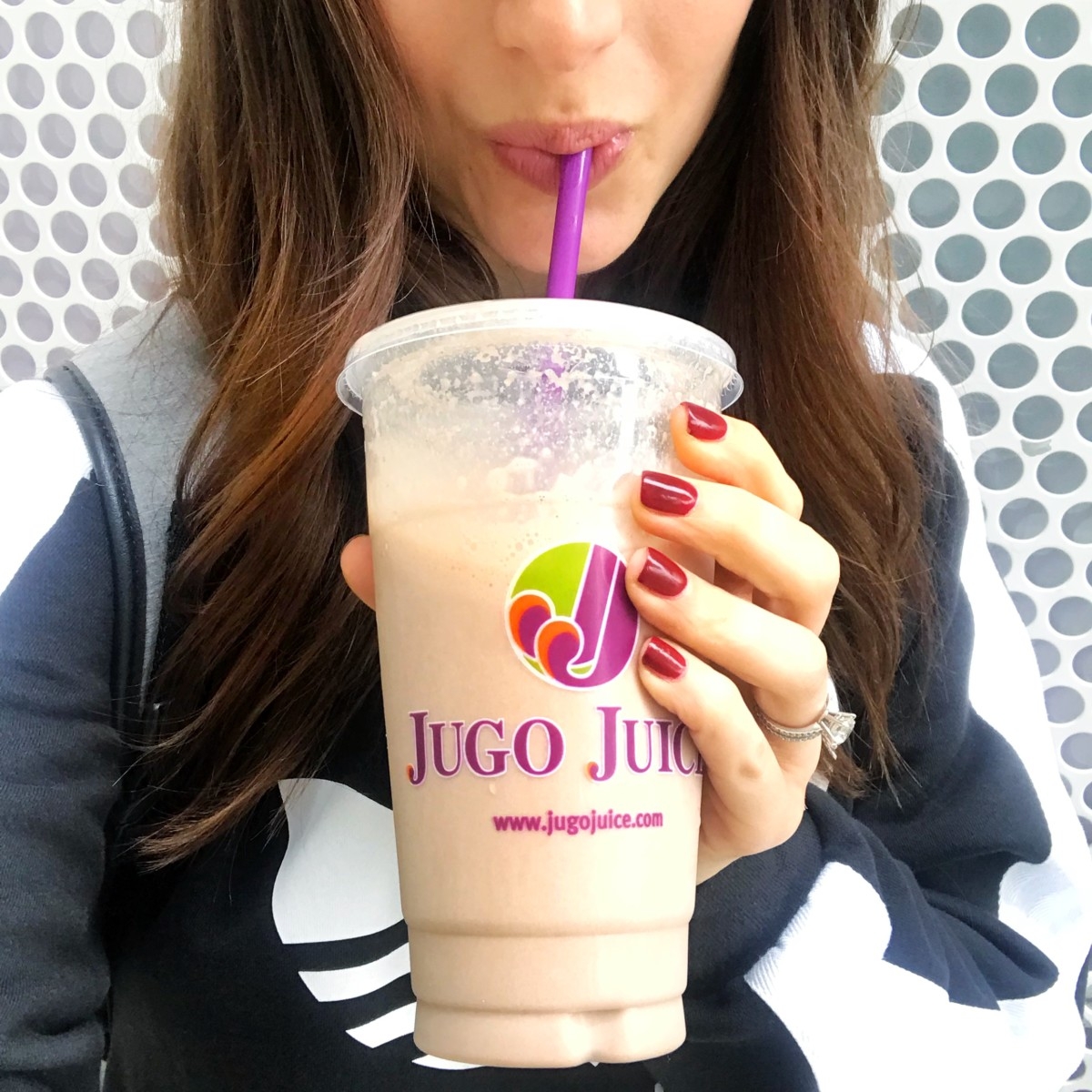 I tried everything from their elixir "Good Shot," to the strawberry banana "Classico," to, of course, my namesake "Kale Nut." When I decided to actually spend some time looking at the menu, I was surprised with not only how many different flavour combos they offered, but the amount of superfoods and niche ingredients you don't find at other quick-service juice bars.
Jugo Juice has everything from ginger and turmeric, to maca and matcha. They also had ingredients that I always put in my homemade smoothies, like chia seeds, flax seeds and hemp hearts. I'm all about incorporating healthy fats and fibres such as these into my smoothies when I am consuming them as meal replacement or even just as a healthy snack because they keep me full longer and help with digestion.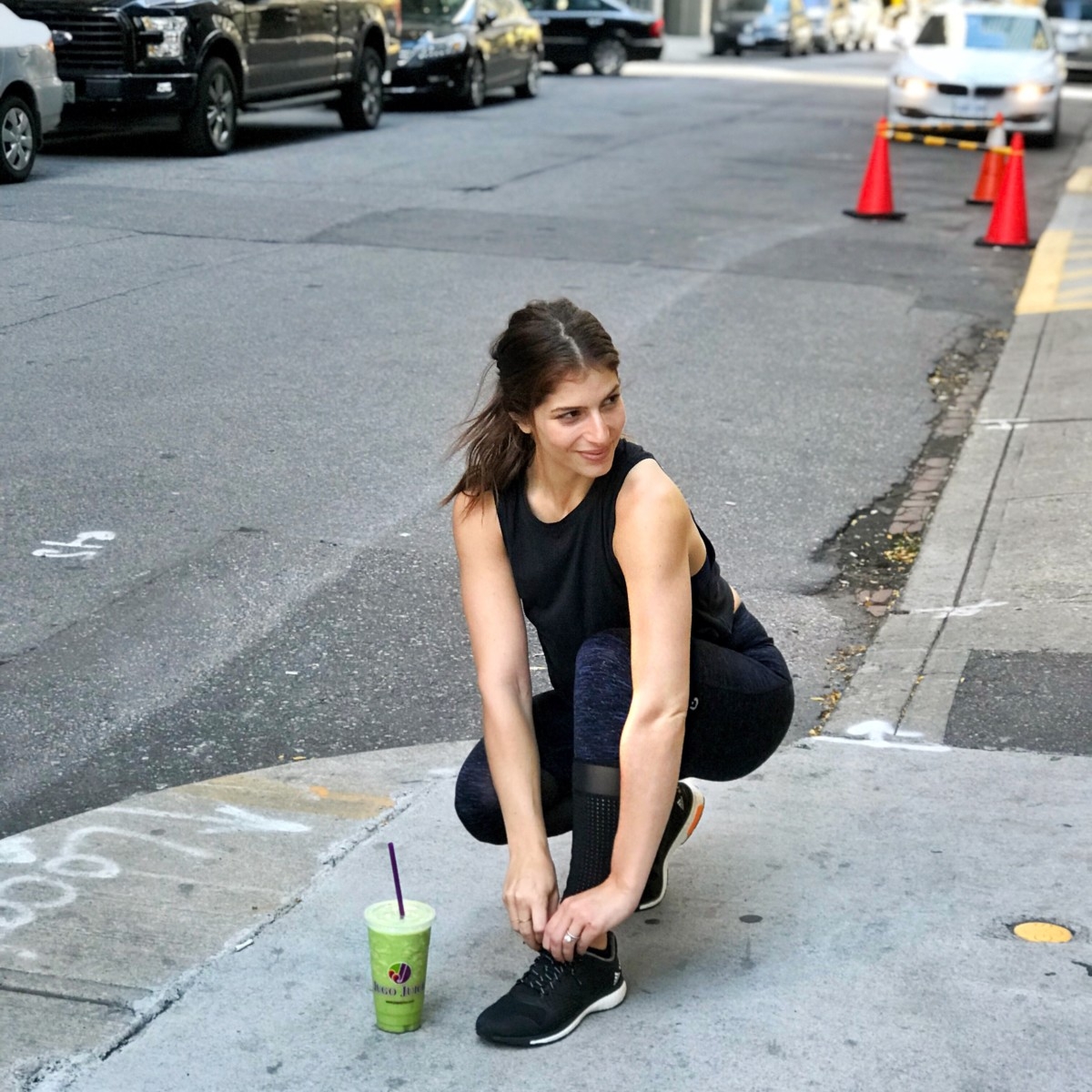 As a personal trainer who is always on the go, I am guilty of either forgetting or not making time to eat. What I loved about participating in this challenge was it helped keep me on track with eating every few hours and allowed me to refuel my body during my long, active days. Since the smoothies were filled with a good balance of protein, fats and carbs, my late-night sugar cravings were also kept in check and I could tell my metabolism was working at its best. Add in the lack of mess and clean up in the kitchen and I was one happy camper.
After 10 days of testing, I must say, much to my surprise, I have a new favourite flavour. I doctored up their Kale Nut a little bit by taking out the fruit juices it comes with, adding in some unsweetened almond milk, peanut butter.. Playing around with all the different ingredients was super fun and I recommend giving it a go to kickstart or continue your health journey!