If you are reading this blog, you already know that I have a thing for green veggies. And not just kale – broccoli, brussel sprouts, romaine lettuce…I love it all.
You may, however, be surprised to know that I also have a major sweet tooth. Chocolate bars, ice cream, carrot cake, candy…I love it all.
I try and keep my meals healthy throughout the day by enjoying large salads or sides of steamed veggies but no day for me is complete without a little something sweet. Lately I've really been into peppermint chocolate and I've even been adding drops of peppermint extract into my chocolate protein smoothies.
Since I need to have some dessert everyday to keep me sane, I am always looking for ways to re-create my favourite treats by putting a healthy spin on them. I've learned to swap out refined sugars and saturated fats for safer and leaner ingredients but this time I decided to take it one step further by also adding in a large dose of nutrients, and I found the perfect dessert to try this with.
I always found peppermint chocolate to be the best post-dinner flavour as it is refreshing and just sweet enough to satisfy my craving. Lately I've been wanting to experiment with making my own peppermint cups but sometimes having dessert lying around my home can be dangerous for me (aka won't last more than 5 minutes). So, I figured if I fill them up with so many nutrients, I can at least feel good about eating them all in one sitting!
When Genuine Health came out with their newly designed bottle of greens+ original, I knew I found the right secret ingredient to take my recipe from plain old peppermint cup to superfood-mint-chocolate-power-house.
Greens+ original is a blend of 23 plant ingredients and because they don't use any GMO ingredients, it is actually the only superfood on the market proven to give us the highest concentration of fruits and veggies.
So what do all these phytonutrients do for us? They help with:
restoring balance in the body to a healthy PH level
increasing our energy
improving our mood
providing the body with antioxidants
Now even though you are getting a huge dose of greens with each bite, I don't recommend swapping out your dinner for dessert, however, adding the Genuine Health greens+ original to this recipe will help you meet your daily need of plant-based nutrients. If that isn't enough to convince you to try them, I will have to add that they are also delicious!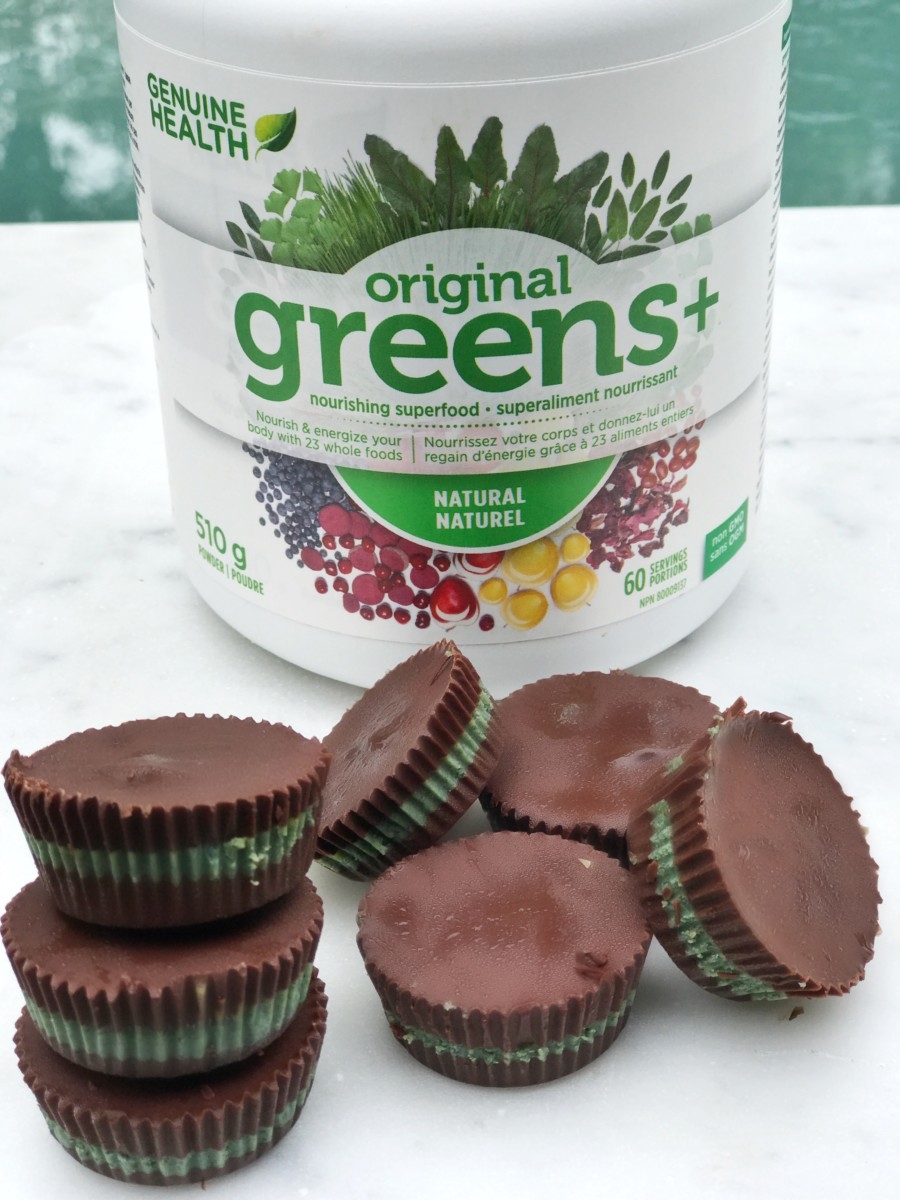 Superfood Peppermint Cups
2017-06-07 08:05:32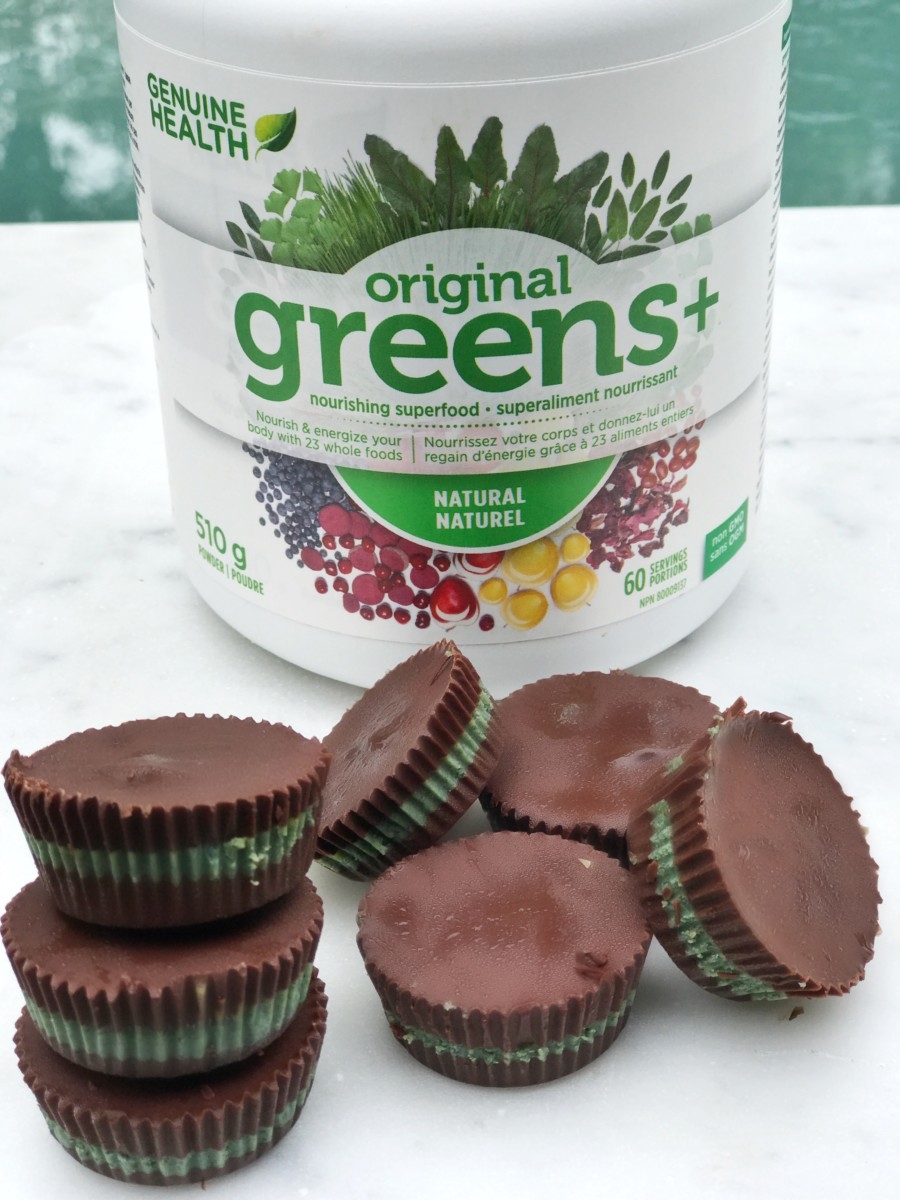 Serves 12
For the filling
1 scoop Genuine Health greens+ original
1/2 cup cashews soaked overnight
1/2 cup melted coconut oil
3 tablespoons honey or agave
3 teaspoons peppermint extract
For the chocolate coating
1 cup dark chocolate chips
1 tablespoon coconut oil
Instructions
Line mini muffin tray with mini muffin wrappers.
Melt 1/2 cup chocolate with 1/2 tablespoon of coconut oil in microwave (90 seconds, stirring every 30 seconds).
Pour melted chocolate into muffin liners until 1/4 full.
Place tray in freezer for 20 minutes.
In high speed blender add cashews, melted coconut oil, peppermint, honey/agave and Genuine Health greens+ original. Combine until smooth mixture forms.
Remove muffin tray from freezer and scoop 1 tablespoon of mixture into the muffin liners.
Place in freezer for 20 minutes.
Prepare second batch of chocolate and pour remaining mixture into the muffin tray.
Place back in freezer for 20 minutes.
Kale & Krunches http://kaleandkrunches.com/